Better Accountability to Constituents – MP Expense Reports

Friends, this is the new format for the reporting of MP Expenses.  You can access all MP's reports at http://www.parl.gc.ca/information/about/process/house/GeneraLInformation/MembersExpenses-2008-2009-e.pdf

The report below lists the expenses of my Member's Office Budget, plus the expenses incurred by the House of Commons for my office, and the total of the two.  To put my expenses in context, I have provided the "average" for all 308 MP's in the same categories.  In the expense areas where my expenses were noticeably higher than the average, I have provided additional comments.

I am pleased MP expenses are available in this format.  They have always been available in a summary form on the parl.gc.ca website, but not with this level of detail.  The report provides a proper accounting of the costs of operating the services which my three offices provide, communications, travel, advertising and all the costs associated with my role as your representative.  You will see that my expenses are just below the average of all MP's.

If you have any questions about my expenses, I am pleased to respond.  Please call either office or email me at stantb@parl.gc.ca

Bruce Stanton M.P.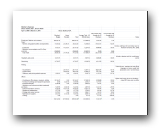 20101102_MPStanton_MP-Expenses.pdf